Discover why Jacky and Geoff will be sorry to leave their artistic Shoreditch apartment on the first floor of a converted fabric warehouse.
Don't you think every move should feel like a wrench? Even when you know it's time to go, finding it hard to say goodbye is the best proof there is that you made a great choice and enjoyed every minute of living there.
All the best goodbyes are the ones with at least a teaspoon of sadness, because that's what missing someone or something is all about. The alternative is being glad to escape – not much of a review of your time together!
And so it is with Jacky and Geoff, who will "miss everything" about their Shoreditch apartment. And looking around, it's easy to see why. With its soft white-painted brick walls, big Georgian sashes and elevated ceiling heights, anyone would find it hard to part company.
The lateral space means there's real room to spread out without ever feeling constrained, and that fabulous sense of spaciousness immediately drew the couple in. "After many months of searching, we were suddenly hit by an instant realisation that this is 'the one'".
Geoff is an artist and was particularly keen to have ample wall hanging space for his paintings and very good light, both of which the apartment and its high ceilings really deliver on. In fact, Jacky's favourite memories will always be of the joy of curating Geoff's art and arranging how to hang it so that each painting complements the rest.
That, and the high-end feeling of living in an art space.
Jacky was looking for a locale with a strong creative vibe, independent shops, plenty of green space and great places to eat. "It's so handy being able to nip out to the food stalls on Broadway Market, pick some flowers from Columbia Road, or grab a bagel on Brick Lane. Regent's Canal is also close to hand, and getting into the City and West End is really easy – it's my dream area!"
The pair have put a lot of attention to bringing the basics back into good shape, from refurbishing all of the window frames (plus new brassware, cords and insulating strips), to installing a new gas boiler and heating controls. There are plenty of extra electrical sockets (many with USB charging points), and connectivity upgrades for both ADSL broadband and Virgin fibre. So the whole place now works really well.
They also added picture hanging rails throughout and statement lighting in the living room, Jacky's favourite place to be. "It has such a special feel, and I feel so lucky to be here. Looking out the window, the view is of sunlight, green leaves and Georgian buildings, making it feel like an oasis."
Not so obvious, says Jacky, is that the apartment stays at a pretty steady temperature throughout the year. "Not too hot in summer, and not too cold in winter. And both the living room and bedroom lend themselves to a variety of uses – living room, bedroom, WFH room – and I love that I can use the space in this very fluid way."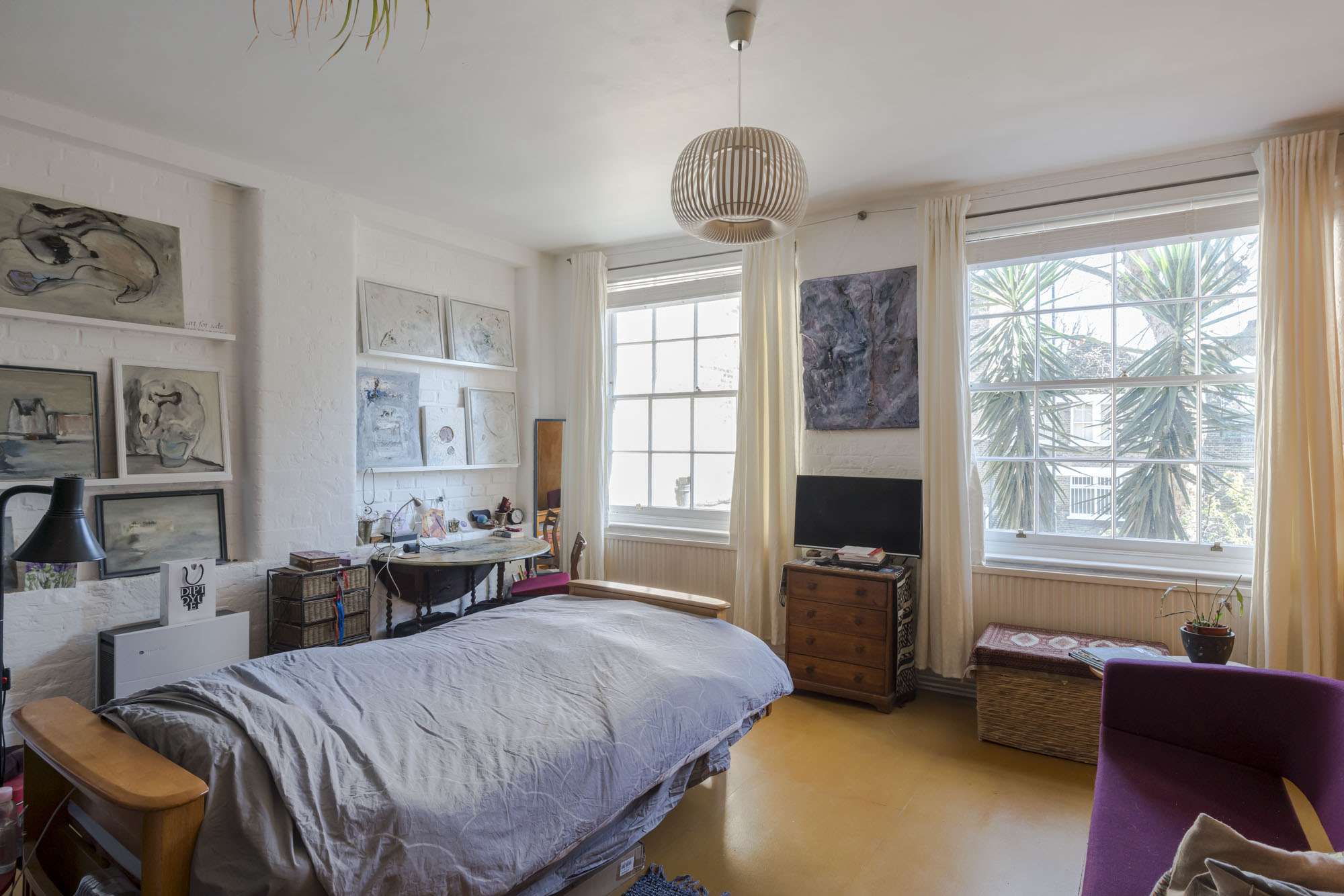 "It's a fabulous flat in a fabulous area, so leaving is a wrench. But we would like (even) more space, so it is time for new adventures."
Jacky and Geoff's Shoreditch apartment is for sale at £950,000 – click here for the images gallery and floor plans.