Are live-work homes right for you?
The concept of working from home has transformed beyond recognition over the last couple of years. Live-work homes were once almost exclusively for the self-employed, but the pandemic has changed everything. Now, almost everyone who's worked in an office has experienced working from home, and millions love it.
But wanting to work from home is not the same as having a home you want to work from. Many have found makeshift solutions less than ideal. Using the dining table means every meal is at the office. Desks in living rooms mean evenings and weekends at work. Offices in bedrooms are a long way from a sensual shutting off.
While many people moved out of cities and into the countryside when the opportunity arose, not everyone wants that life. Staunch urbanites – and there are plenty of them – love the trappings of metropolitan living: it's the hustle and bustle that gives them joy. They just don't want to play sardines on the tube every day.
So, could live work be the answer? We've sold and let many live-work units over the years, and with so many more people working from home and reassessing the way they live, we thought it the perfect moment to revisit the subject.
Read on for our complete guide to buying and owning a live-work home.
SOLD: Live-work apartment in a converted warehouse in Tyers Gate, Bermondsey SE1
WHAT EXACTLY IS LIVE-WORK?
A live-work unit is just what it sounds like: a home designed to combine your professional and personal life.
The concept was first conceived in Hackney in the 1990s. The local authority was keen to encourage the regeneration of abandoned and defunct industrial spaces by enticing small businesses to the area. Given that residential property was more expensive than commercial space and thus a more viable option for property developers, the idea of creating homes where people could legally run a business was born.
Designed to appeal to a growing number of creative freelancers and self-employed professionals, the converted warehouses and factories were an instant hit with fans of loft living, urban lifestyles and industrial architecture. And live-work proved the perfect solution to keeping a neighbourhood alive with a daytime economy during the week, rather than seeing it empty at rush hour.
The planning permission allowing domestic and commercial use made live-work units a cost-effective solution for business owners who no longer needed to pay for a home and separate studio or office. What followed was an explosion in popularity that spawned the growth of London's creative quarter.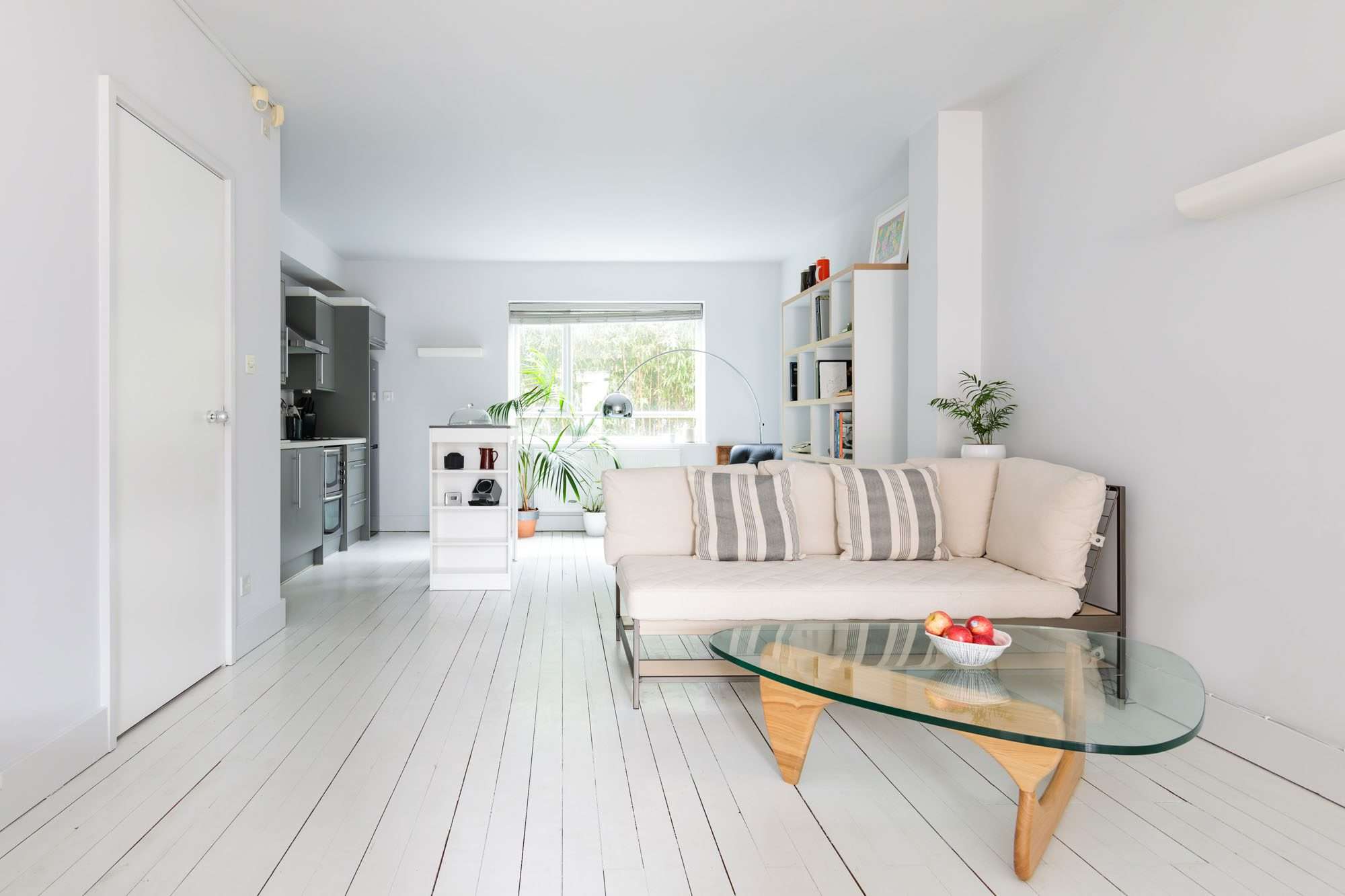 For sale at £700,000: Live-work house in Bethnal Green, E2
WHO BUYS A LIVE-WORK HOME?
Historically, live-work units were bought by self-employed people, mainly from the creative sector. They filled with architects, photographers, fashion designers and artists alongside personal trainers, therapists and anyone needing a private space for visiting clients.
Of course, some people bought live-work homes simply to have an oversized living space rather than lots of small rooms. As an idea of how the spaces work, a one-bedroom live-work unit could easily swallow a typical three-bedroom Victorian house.
Since the 1990s, the market for live work homes has evolved. As an example, not every creative couple who started a family wanted to move to the suburbs. Their desire to stay in the city produced a demand for live-work spaces with a more child-friendly layout. And in 2020, the lockdowns from the pandemic gave millions a taste of working from home. Many of them have the option to continue as employers shrink their outgoings by reducing their office space.
Owning a live-work unit can help you reclaim many hours of your day in a properly designed space. Somewhere that doesn't need clearing away every mealtime, and that doesn't mean squeezing yourself into a tiny bedroom or corner.
IS IT EASY TO GET A MORTGAGE?
The short answer is yes, but the first thing to consider is that not all live-work units are created equal. Some have designations around how much space can be used for work, while others have none.
To get a residential mortgage, you'll find more loans available if the designated work area is no more than 20% of the total floor space. But many lenders are happy with a work designation up to 50%, which covers the vast majority of live-work homes.
I've personally owned and lived in two live-work apartments, both of them at the wonderful Alaska Buildings in Bermondsey SE1. I took out a residential mortgage from a high street lender with zero problems on each purchase, and I paid standard council tax.
For live-work units with a designated workspace above 50%, the buyer will probably use the space purely for business. Examples include street-facing ground floor units used as art galleries or studios for creative agencies.
Permitted business use is generally B1, which covers office or studio space. You won't be cowering in a building that's full of heavy machinery, car workshops and noisy bars.
WHERE CAN I FIND A LIVE-WORK HOME?
Live-work units are often apartments converted from warehouses, factories and other industrial buildings that populate inner-city locations. But you can also find new-build examples, including live-work houses with more family-friendly floorplates.
In London, the greatest concentration is in Zones 1 & 2, particularly around the City Fringe in areas like Shoreditch and Clerkenwell. Heading further into the East End, you'll find plenty more in Bethnal Green, Whitechapel, Hackney and Limehouse.
South of the river, you'll have no trouble finding live-work units in any of Southwark's neighbourhoods along the Thames. Bermondsey, Borough and Bankside are teaming with them, as are Deptford to the east and Walworth and Brixton to the south.
But live-work homes also crop up in less obvious locations, and one of our favourites is Havelock Walk in Forest Hill. Here,  an entire mews of former stables and workshops is now a live-work mecca and home to one of London's most endearing artist communities.
UNDER OFFER: Live-work house converted from a workshop in Havelock Walk, Forest Hill SE23
Final words
Are you looking for a permanent working-from-home solution? Live-work homes provide a convenient and flexible space for combining your personal and professional life. Specially made for this purpose, they're an ideal option to live and work in an inspiring environment designed around you.
Do you own a live-work home that you're looking to sell or rent? We'd love to show you how our many years of experience in this niche market can help you get the very best price from the perfect buyer or tenant. Why not get in touch for a friendly and expert chat? Call us on 020 7917 9995 or send us a message at [email protected] to talk about your plans.
Looking for further live-work inspiration? This excellent American website goes into even more detail and showcases some fantastic live-work homes and developments in wonderful industrial buildings.